This is the costume I wore to work on Halloween....

From the side:

And from the back (note the working propeller):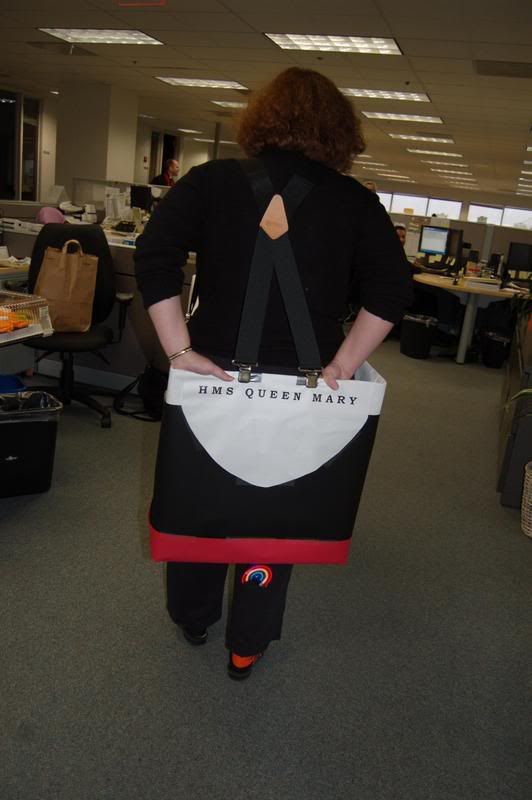 It took me about 6 hours over two days to construct the boat and decorate it with help from both my mom and dad. The reason I had to wear this costume is that as part of the Finance Group at my work, we went with a theme costume. I agreed to be volunteered to construct and wear the boat costume. Here is the group shot of our Theme Costume....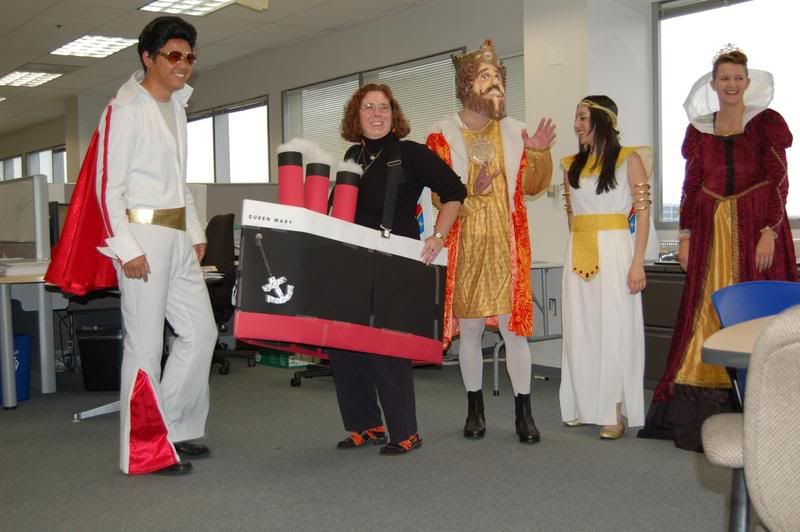 if you haven't figured out our theme yet, here is a shot of us from the back, which might help...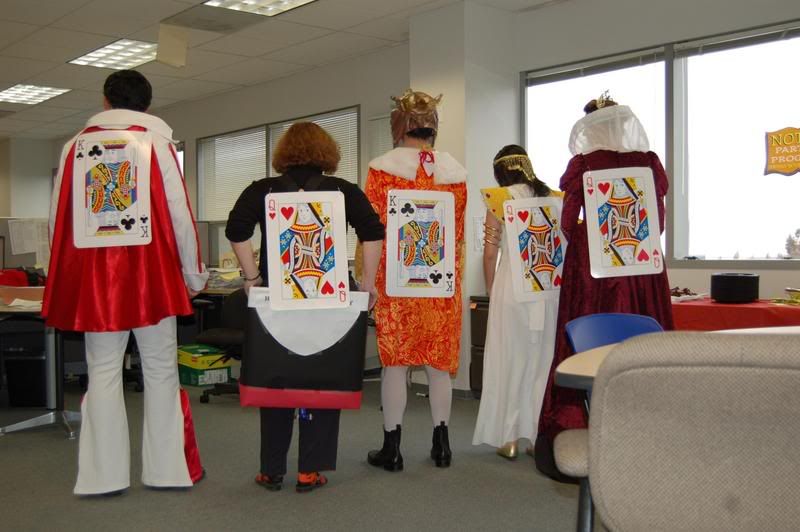 If you still haven't figured out our group theme....We're a full house....2 Kings (Elvis, King of Rock 'n' Roll & the Burger King) and 3 Queens (Cleopatra, Queen of the Nile; Queen Elizabeth the First and me, the Queen Mary).
I thought our costumes were ridiculously good and that we would win the group costume contest for sure. Unfortunately, we lost to the Operations Group, who dressed up as characters from the video game "Street Fighter."
From left to right: Chun-Li, Balrog, Dhalsim, Sagat, Edmond Honda, Blanka, Ryu, & Guile




It was the guy who portrayed Blanka by painting his whole body green that got them the win, the judges loved his dedication and sacrifice for his art.
It kind of sucks that we lost -- I spent so much time on making my ship and there were these great little details on it, like a propeller that actually worked, the anchors were held in place with real chain, the smoke in the smokestacks, and not to mention that the colors were right as well -- I mean, I made a pretty accurate representation of the real boat for god's sakes!

See here:

I mean really -- not to brag too much -- but just compare the boat I made to these pictures and you'll see what I great job I did with my costume. Oh, well, what're ya gonna do? The green dude killed our chances of winning.
Current Mood:
cranky
Current Music: "Every Day is Halloween" by Ministry